According to a story the Chattanoogan wrote on the history of Belvoir, "

A portion of the Brainerd community still retains the name given to a large estate by its owner, William Riley Crabtree. "Belvoir," French for "beautiful view" and a name shared with other places around the globe, was what Mr. Crabtree called his property where he raised Jersey cattle." Crabtree was a successful mayor who saw some of the best of Chattanooga's boom years, including "

the laying of the cornerstone for the new City Hall," the grand Chattanooga Choo-Choo train station that helped put Chattanooga on the map after the Civil War, and the James Building, Chattanooga's first skyscraper. Later on as Chattanooga grew the farmland that extended from downtown to Missionary Ridge was built up into the Highland Park, Orchard Knob, Glenwood, and Ferger Place neighborhoods and growth spread to the other side of the ridge. Eventually Crabtree's farm became the new suburbs growing up alongside the new interstate highway system.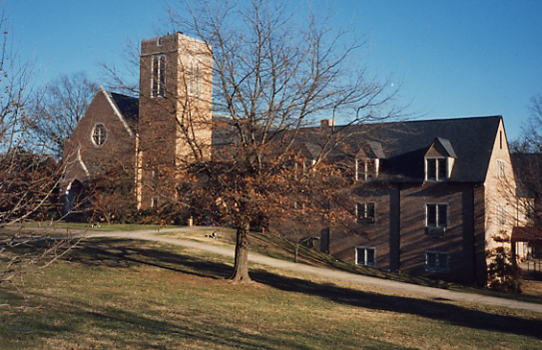 Today Belvoir is still beautiful, although much different than when Mayor Crabtree named it. It's an established neighborhood of well-kept brick homes, green lawns, and large old trees-- the very best of post war suburban development. It's also home to the gorgeous grounds of the Grace Episcopal Church, founded in 1887. According to a brief history by the Chattanooga Chapter of the American Guild of Organists, the church grew with the city, and was originally founded at the corner of 19th and Cowart streets close to today's Southside district. It later moved to Highland Park, one of Chattanooga's first suburban neighborhoods in the post Civil War boom. Grace came to Brainerd in 1941, and the congregation met in a large old Victorian home across the street from its present location until the stately nave and undercroft you see today were built in 1956.
Today the church is an integral part of the
neighborhood and hosts many community events.
The Brainerd Farmers Market
takes place once a week on Saturdays 10-1 in the Grace Church parking lot. It is just a few blocks from most Belvoir homes, making it the ultimate in walking distance grocery shopping. Grace Church also has a large community garden on a plot of land once used as a soccer field when Grace was home to the
St. Nicholas School
, a private elementary school that has since expanded to a location in East Brainerd.
Not only is Belvoir convenient to downtown, with just a 5-10 minute commute to downtown, it's also just 10-15 minutes from Hamilton Place mall's wealth of shopping and restaurants. Even more convenient are all the grocery stores, restaurants, and shops along Brainerd Road, which is one of the borders to the Belvoir neighborhood. This busy thoroughfare boasts countless cheap eateries, a grocery store, convenient retail such as cell phone stores, hardware stores, and a Walmart, and even a crop of fun new boutiques. Close to the tunnels through Missionary Ridge, just a few blocks from Belvoir, old storefronts are finding new life. They are home to businesses including the Comedy Catch, Red Queen Tattoo Parlor, Out of the Blue Cafe and Kite Shop, the Ripple Theater, The Countdown Building clay arts studio, and Dwelling, an upscale furniture consignment shop.
Belvoir is still a great place to raise a family, with affordable homes and proximity to a few excellent schools, including
Barger Academy of Fine Arts
and
Brainerd Baptist School
. While Brainerd's public schools don't have the best
reputation
in Chattanooga, efforts similar to those undertaken at the Howard School and publicized in Fancy Rhino's Build Me a World documentary are being applied at Brainerd. In a few years they will hopefully have made considerable progress. In the mean time, magnet or private schools are worth looking into if you have children and fall in love with Belvoir or other Brainerd neighborhoods.
With so much convenience to shopping, work, school, recreation, and the security and beauty of an established neighborhood, historic Belvoir is a great choice whether you are a parent, young professional, or retiree. It's definitely one of the best spots in Chattanooga, with a strong neighborhood association and sense of community.