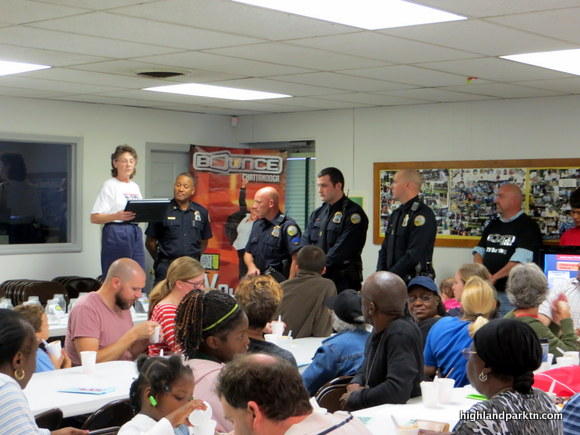 Police are honored in Highland Park at their
National Night Out celebration.
Photo Credit: Alice O'Dea
Tonight is
National Night Out,
an event started in 1984, celebrates community, neighbors, and positive relationships with area police. It is celebrated either August 2nd or October 2nd in areas that are still too hot in August to enjoy outdoor fellowship. Neighborhoods throughout Chattanooga go all out, with barbecues, raffles, chili cook offs, block parties, and picnic sports. The event started as part of the neighborhood watch movement that transformed derelict neighborhoods all over the country when the first wave of urban revitalization caught on in the 1980s. It's no surprise then that some of the Chattanooga neighborhoods that celebrate the hardest are historic downtown neighborhoods that have steadily made a comeback in the past decade or two.
Despite the rainy weather, events have carried on throughout the city in rec centers, neighborhood centers, and community clubs. Glass House Collective, a nonprofit organization that is pursuing the revitalization of Glass Farms neighborhood and other inner city communities, celebrated with residents in Battery Heights. Highland Park invited neighbors via Facebook to an e
vent filled with a "

fun run (starting in the park at 5:30), a Chili cookoff and tasting, Moonpies, speakers, awards, and lots of raffle prizes!" The prizes were from a number of neighborhood businesses and some from the larger community, including

Architectural Exchange, the Creative Discovery Museum, Good Dog, Gordon's Cleaners, Geno's Salon, Lupi's Pizza, the Main Street Bike Co-op, Mojo Burrito, NYPD Pizza, Ruby Falls, Slip-n-Glide Car Wash & Detailing, Southern Belle Riverboat, the Tennessee Aquarium, the Tennessee Valley Railroad, Track 29, Urban Stack, and Wally's. Neighbors were trading good-natured smack talk in regards to the chili cook off challenge on the message board.
Alton Park had a beautiful celebration that included prayers

for "
for peace and solutions to make Alton Park better."
A rape, aggression and defense (RAD) class offered at the
South Chattanooga NNO celebration
The Time Free Press als

o reported
that, "
In their National Night Out event, Washington Hills, Lake Chickamauga, Bal Harbor and Murray Hills neighborhoods met at Murray Hills' walking track for face painting and music. Washington Hills residents flipped on their porch lights from 6 to 8 p.m. and put balloons on their mailboxes in observance of the night," and that "p
eople in Ridgedale met at the park near 12th and Buckley streets and handed out stickers to kids. McCallie School representatives brought food."
St. Elmo celebrated in an eccentric fashion as usual, with a huge sale at Collective Clothing, and a Corgi Parade.
National Night Out St. Elmo
Photo credit: Matt Skudlarek
National Night Out Sale at St. Elmo


The Corgi Parade, part of the always-unique St. Elmo's
National Night Out festivities
It's a wonderful tradition, and wonderful to see turnout, camaraderie, and enthusiasm despite the damp. Here's to National Night Out 2012, to years more of this great tradition, and to the police, firefighters, and community member who do their part to keep our neighborhoods safe and full of friendly faces.